In addition to having access to the Members-Only Data Dashboard, powered by Unify, NFRA conducts research and state of the industry reports to provide valuable, broad-based insights on how the frozen and refrigerated food departments are positioned best for sustained growth. Check out our latest research below:
New Data from Atomik Research
Shifting Consumer Eating and Grocery Shopping Habits:
New Opportunities for Frozen and Refrigerated Foods
NFRA partnered with Atomik Research, a full-service creative market division of 4media group, to conduct a comprehensive research campaign to better understand consumers' at-home and in-store behaviors specific to frozen and refrigerated foods post-pandemic. Findings from qualitative interviews identified key themes in behaviors and attitudes that were used to inform an online survey. These primary methodological approaches were also informed by a secondary methodological approach that leveraged syndicated social and news media data – a social and news media landscape analysis.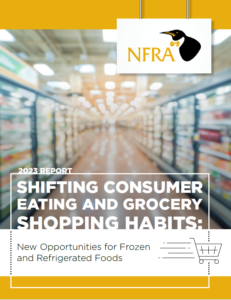 Excel files will open in your Downloads folder