Influencer Penelope Guzman created this easy and creamy Homemade Tzatziki Sauce recipe featuring Good Culture sour cream, olive oil, and a few other ingredients. It's perfect as a dinner side or afternoon snack!
Influencer Crayons and Cravings created this tasty after-school snack recipe – Homemade Ranch Dip featuring Daisy sour cream and spices you probably have on-hand!
NFRA Influencer The Millennial Stay-at-Home-Mom created this easy after-school dinner featuring rotisserie chicken and frozen buttermilk biscuits. You'll have this Easy Chicken & Dumplings on the table in no time!
The Mr. Food Test Kitchen created this Creamy Chicken & Ravioli Skillet recipe, great for a weeknight dinner that features frozen favorites like cheese ravioli, cooked chicken chunks and garlic bread sticks!
NFRA influencer Live Luv Texas created this savory Buffalo Chicken Totchos recipe using just six ingredients, including Any'tizers Boneless Buffalo Style Chicken Bites and Ore-Ida Golden Tater Tots.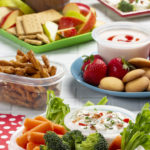 Anytime Dip Recipes
The Mr. Food Test Kitchen created these easy dip recipes that start with cream cheese. Enjoy Strawberry Cheesecake Dip and Chocolate Hazelnut Dip with fruit, graham crackers or vanilla wafers for a tasty snack! For a savory dip option, you'll love this flavorful Cowboy Dip, which you can serve with pretzels, chips or fresh veggies.
The Mr. Food Test Kitchen created this cheesy Ham & Cheese Breakfast Pockets video and recipe perfect for breakfast or a quick snack. A few refrigerated staples like eggs, butter, shredded cheddar cheese, milk and crescent rolls plus deli ham are all you need!
The Mr. Food Test Kitchen created this Coconut Shrimp Skewers recipe, featuring frozen pineapple chunks, mango yogurt, frozen white rice and frozen jumbo coconut shrimp. It's perfect for enjoying during the last few weeks of summer!
Influencer Mama Latina Tips created this decadent Monkey Bread Sundae, perfect for celebrating Ice Cream Month! Bridgford Monkey Bread and Blue Bunny Salted Caramel Craze Ice Cream plus tasty toppings make for a delicious dessert!