Larsen and Thomas Inducted into 2019 Refrigerated Food Hall of Fame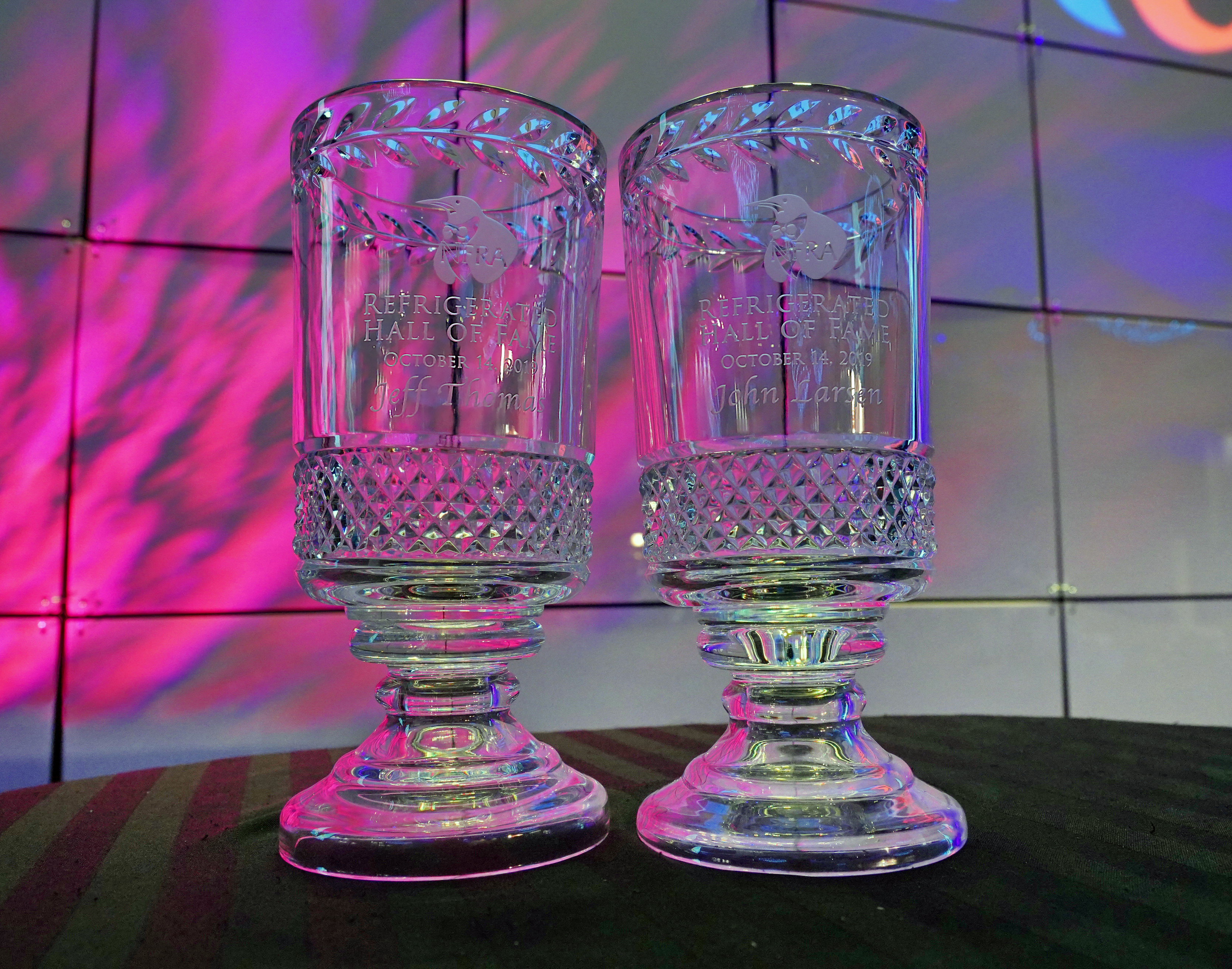 October 30, 2019 | Harrisburg, Pa. – The National Frozen & Refrigerated Foods Association (NFRA) established the Refrigerated Food Hall of Fame in 2010 to honor individuals for the contributions they have made and the leadership they have provided to the Refrigerated Food Industry. John Larsen, Sr. Director of Space Planning for Albertsons Companies and Jeff Thomas, retired Vice President of Sales for Crystal Farms division of Michael Foods, were inducted into the Refrigerated Food Hall of Fame October 14, 2019 at the NFRA Convention in Orlando, Fla.
John Larsen began working at Stock Market Foods/Thriftway as a Grocery Manager in 1984 while he also graduated with a B.A. in Business Administration with an emphasis in Marketing from Washington State University. He was promoted to Store Director in 1987, and by 1995 was working as the Promotional Buyer/Advertising Director.
Larsen joined Safeway in 1998 where he was Category Manager in the Seattle Division. He then moved to the Portland Division as Sales Manager and completed the USC Food Industry Management Program in 2002. Prior to the merger of Safeway and Albertsons, Larsen held the role of Vice President of Dairy, Refrigerated in the corporate marketing department at Safeway in Pleasanton, Calif. In his current role, Larsen manages the Space Planning of all of Albertsons 2,400 stores and manages a team of over 50 people corporately, and 120 people across the divisions. His responsibilities include premium store resets, remerchandising of the stores and store remodels.
Larsen began serving on the NFRA Board of Directors in 2005 and served as Vice Chairman of Refrigerated in 2009. He served as Chairman-Elect in 2011 and as Chairman for two terms in 2012 and 2013. It was in 2012 that NFRA began its relationship with Edelman PR and launched its year-round consumer PR campaigns in 2013. Larsen is a member of the Distinguished Order of Zerocrats and Honorable Order of Golden Penguins.
Jeff Thomas spent a lifetime around frozen and refrigerated foods with his grandfather, Carl, and parents, Robert and Rosalyn, owning and working for a local food brokerage. Thomas attended the University of Buffalo and then served three years in the United States Military, including a tour in Vietnam. After returning, he began his career in the food business as a driver for Byrne Dairy in upstate New York. Thomas then joined the family business as a salesman for Reith, Hogan & Hamer food brokerage. He entered the frozen food business with his first position at Seneca Foods and later at Sara Lee.
In 1989, Thomas took a role with Michael Foods to launch the Simply Potatoes refrigerated line—the first of its kind in the dairy case and still one of the company's leading brands. Over the following 25 years, he worked with the Michael Foods team to grow the company from its formation in 1987 into a multi-billion-dollar manufacturer of foodservice, food ingredient and retail offerings. Thomas retired from Michael Foods in 2014, but currently uses his skills as a logistics volunteer for ICA Foodshelf, where he stocks and maintains inventories of foods to serve the needy.
Thomas began serving on the NFRA Board of Directors in 2003 and served as Vice Chairman of Refrigerated from 2005-2008. He rose through the Officer positions becoming Chairman in 2011. That year, NFRA partnered with Nielsen to conduct its first State of the Industry Report giving NFRA members free access to in-depth research on the frozen and refrigerated food categories as a benefit of membership. Thomas became a member of the Honorable Order of Golden Penguins in 2006.
###
NFRA is a non-profit trade association representing all segments of the frozen and refrigerated foods industry. Headquartered in Harrisburg, Pa., NFRA is the sponsor of March Frozen Food Month, June Dairy Month, the June/July Ice Cream & Novelties promotion and the Cool Food for Kids educational outreach program. NFRA holds the annual National Frozen & Refrigerated Foods Convention in October.